Awesome Live Receptionist
& Answering Services
The Benefits of Residing in Gabbyville
Gabbyville is an award-winning provider of friendly, peppy and efficient virtual receptionists that will keep your business running like a well-oiled machine – at a fraction of the cost!
Take a look at what makes Gabbyville great!
Live Call Answering
Calls are always answered by a friendly, accommodating voice.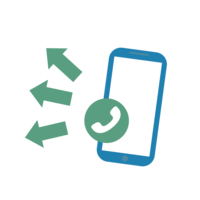 Call Routing
Calls are routed to different numbers, voicemails, or extensions based on what you prefer.
Outbound Calling
Return personal or business calls
on your behalf.
Accurate Message Taking
Detailed messages are taken down and are sent via email or voicemail.
Appointment Reminders
Our Gabbonistas can call you and your clients and provide reminders on upcoming appointments.
Our Phone Quality Rocks
Gabbyville uses T1 phone lines over VoIP to deliver the highest quality call quality available today.
Multi-Conferencing
Our Gabbonistas can initiate a conference bridge on your behalf. Collaborate with as many people needed on a single call!
Sound Like a fortune 500 Company
Sound like the successful company that you are with our Gabbonistas' professional and capable demeanor, partnered with our noise-cancellation technology.
Be mobile
Take calls wherever you are in the world! Never miss out on a potential hot lead.
Customized Call Greeting
Let us know exactly how our Gabbonista should greet your callers. We can also customize a greeting on your behalf!
Play your favorite hold Music
Feel free to upload your favorite hold music, or just tell us what you want us to play and we'll make it happen!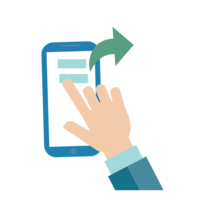 Update your status
Let Your Gabbonista know if you are in a meeting, at home, or relaxing away. Calls will be promptly forwarded to the number(s) you provide.
Coverage Time
Our Gabbonistas will cheerfully and professionally answer your clients' calls from Monday to Friday from 8am to 11pm EST (5am – 8pm PST)! That's a whopping 15 hours of our brilliant live virtual receptionist service!
Say Goodbye to Spam Calls (For No Extra Charge!)
You are only billed for phone calls that are relevant to you and your business. Spam calls are not billed against your monthly pool of minutes, saving you money and eliminating headaches!
Send Daily Requests and Updates to Your Receptionist Team
Give directions and update your receptionist team of your daily service requests and important instructions via phone call, text or email! Interact with your Gabbonistas on your preferred means of communication!
Are you ready to build a better business?
START YOUR FREE TRIAL TODAY!
How Our Virtual Receptionists Work
Our peppy and professional virtual receptionists – our Gabbonistas – will:
Collect important call details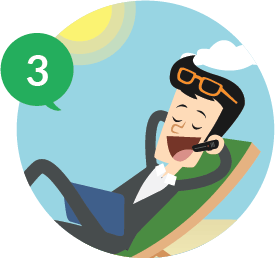 Relay and transfer messages
"What I like about them is that they understand how businesses work. So when I ask them to make a change, they are able to implement it right away. I'm able to say that they're pretty damn awesome!"
Christine Ann Iglesias
CEO C Sharp Video Productions
"The last couple of years, Ethode has experiencing tremendous growth. We have trouble answering phones, taking messages and scheduling meetings. Gabbyville has exceeded our expectations and has become a crucial part in how we do business. We would highly recommend Gabbyville to any company that's struggling in handling phone calls and taking care of their customers the right way."
Joshua Holmes
CEO of Ethode.com
"Overall I highly recommend Gabbyville. If you're a business looking for that extra phone support, Gabbyville should be the first place to look. From how satisfied my clients are, to the positive reviews they leave about my company's "receptionists", Gabbyville has helped my business greatly! Thank you Gabbyville for getting me to where I am today with my business!"
Jotham King
Book2Clean
"It's been a joy to work with the Gabbyville team! It's also a luxury for a small business owner and sole provider of professional services like me to be able to leverage technology in this manner. With the assistance of my Gabbonistas, I am able to reach and serve a larger audience. The team's response time is, hands down, unbelievably quick and the delivery is exceptional — their service goes beyond my day-to-day needs! They are able to anticipate my next step and deliver ahead of schedule. They go beyond my expectations!"
T.W. Family Law Attorney
Smyrna, GA
"It has been such a pleasure to work with Gabbyville. From the customer support staff to the virtual receptionists, Gabby makes my boutique law firm sound huge! My clients appreciate their kind tone and their considerate demeanor (and so do I). The most valuable benefit for me is the ability to decline calls without sending my clients to a computerized voicemail. Thank you Gabbyville!"
Katrice M. Matthews
Law Firm
"Gabbyville has helped me expand my business in a manner that would have been impossible by myself. We've increased our revenue almost 2 times in the past 6 months, growing it into a 6-figure business! While I maintained a full-time job, I can probably count the number of times I had to personally call customers on just one hand. By using Gabbyville, I'm able to focus my limited time on running the business and working on marketing. Gabbyville's receptionists have my complete trust, and they can probably convert leads into clients better than I can. Thank you Gabbyville for getting me to where I am today with my business!"
Cesar Rodriguez
Just Maid 4 You
"We've been clients of Gabbyville for a little over two years, and in that time, we've had an amazing experience in terms of the customer service -- just how the representatives of Gabbyville deal with our clients. With Gabbyville, they compliment our support staff, and if we are unable to attend to a call, our Gabbyville receptionists will pick it up seamlessly. So our clients really can't tell the difference between our in-house staff and Gabbyville. And in many instances, our Gabbyville receptionists have answered questions for clients, provided information, given pricing as well as forwarded e-mails, etc., so they really do go above and beyond."
Daniel Yaniv
Owner, Yaniv and Associates
Are you ready to build a better business?
START YOUR FREE TRIAL TODAY!