Palliative Home Care Virtual Services & Solutions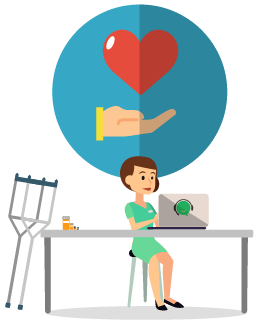 About Hospice, Nursing Homes, and Home Care Providers
As a hospice, nursing home or home health care provider, you're busy administering palliative care, scheduling home health workers for your various clients, making sure that activities of daily living are performed well for all your clients.
Sounds like you'll need palliative home care virtual services to help you communicate better, faster, and more professionally!
From carrying confident and compassionate conversations about respite care, self-directed support, preventative services, advance directives, continuum of care, and dementia care — you can count on our trusty Gabbonistas to speak positively and knowledgeably to your patients!
How Gabbyville's Palliative Home Care Virtual Services Can Help
If you own or manage a home health care company, you understand just how important it is to create and keep strong relationships with clients. You also know that though there are a lot of communication channels available in this day and age, palliative home care virtual services are your best bet.
A lot is on the line when over-the-phone communication is not on point. Did you know that…
Are you ready to build a better business?
Try our 21-day money-back guarantee today!